Collections of The Seward House Museum in Auburn NY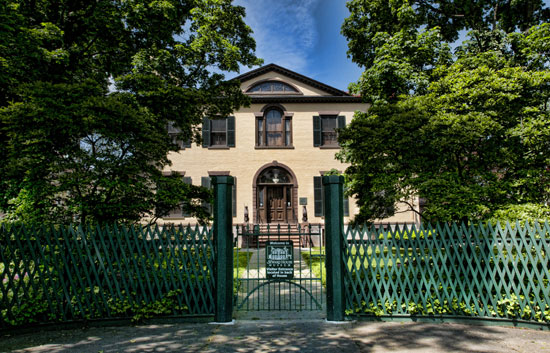 Seward House, the historic home of William Henry Seward, is a historical museum attraction in the center of Auburn's downtown business district. Seward House has been recognized both for its nineteenth-century owners, William and Frances Seward, and the intact collection of the family's fine and decorative arts, political and travel souvenirs, photographs and manuscripts. The building and its contents remained within the Miller and Seward families from its construction in 1816-1817 to its donation as a museum in 1951. The home was William Henry Seward's primary residence during his terms as New York State governor (1839-1843), U.S. senator (1849-1861) and U.S. secretary of state (1861-1869).
The Seward House Museum has an extraordinary 10‐15,000 object collection in all media chronicling the five generations of the Seward family. Virtually every object owned by the museum has provenance to the Seward family residency.
Among the treasures in this remarkable house museum collection are the 7,000‐item library amassed by this family of readers including many books dating from Seward's almost 40‐year political career; objects from Seward's Washington, D.C., home and office during his two terms as Secretary of State, including his favorite bust of Lincoln; a 132‐piece collection of prints and photographs of kings, queens, and diplomats personally given to Seward and displayed in a "Diplomat Gallery" Seward created in his retirement; the iconic 1867 oil painting by Emanuel Leutz of the signing of the Alaska Treaty; art, sculpture, and textiles acquired by Seward during his worldwide travels; as well as many Civil War era family artifacts, including a piece of the bloody sheet from the attack on Seward in his Washington home on the night that Lincoln was shot at Ford's Theater.
The Seward House continues to enjoy its reputation as one of the finest historic houses in the region. A tour of the Seward House Museum provides an ideal prism for viewing history and is a crucial pillar of our educational infrastructure. But ultimately it is the personal stories of this fascinating family that make a visit to the Seward House Museum so special and on the top of the list for locals and tourist alike.