Safe Haven Museum of Oswego County NY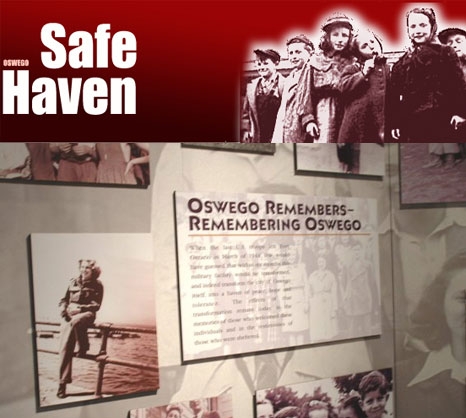 The Safe Haven Museum and Education Center is dedicated to keeping alive the stories of the 982 refugees from World War II whose were allowed into the United States as "guests" of President Franklin D. Roosevelt. These refugees were housed at Fort Ontario in Oswego, NY, from August 1944 until February 1946.
The Nazi Blitzkrieg created refugees by the millions as it raced across Europe. Jews, because they were Jewish, and any others who ran afoul of the Nazi regime were killed outright or sent by rail to prison camps like Auschwitz to be killed or worked to death. Isolationist America tiptoed around this "European War" until shocked into it by Japan.
In 1944, with the tide of the war turning the Allies' way, President Franklin Roosevelt made a symbolic gesture. His Secretary of the Interior, Harold Ickes, sent Special Assistant Ruth Gruber to Italy to bring back nearly 1,000 war refugees to America. The 982 men, women and children had been specially selected for the trip. The first priority was refuges that had been in concentration camps and escaped.
A continent away from the European war zone, Oswego, New York, on he shores of Lake Ontario, was destined to paly a unique part in World War II and the refugee history. Here at the Safe Haven Museum you will find the story – how a President's decision altered the lives of 982 refugees and the small community that gave them shelter and hope. Open for public visits and group tours.
...more>>