Oneida River in Central NY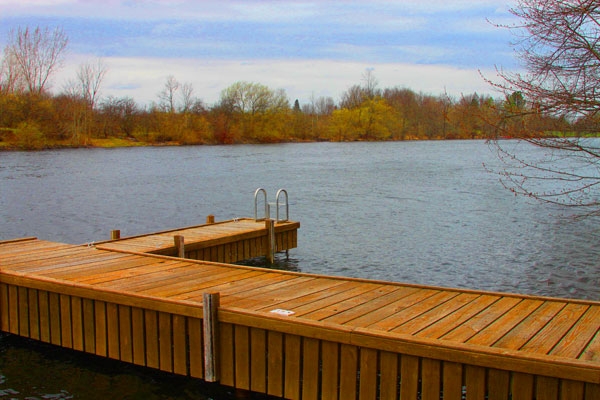 Oneida River stretches approximently 18 miles in central New York region flowing west from Oneida Lake to the Oswego River just north of Syracuse NY. It is home to a wide variety of fish including: walleye, tiger musky, northern pike, largemouth bass, smallmouth bass, black crappie, white crappie, yellow perch, pumpkinseed sunfish, bluegill, white perch, brown bullhead, channel catfish, common carp, freshwater drum, bowfin, round goby and gizzard shad. Oneida River helped connect the NYS Barge Canal System and remains part of the Erie Canal.
On the River banks of the Oneida River, one will find the River Edge Mansion. This restored 1818 Greek revival mansion is located just 12 miles from Syracuse in Central New York. Previously known as the Schroeppel Homestead, it was the home to the first school room in the area and is listed in the National Register of Historic Places. This lovely old home has been restored to display its original charm and elegance and retains most of the original moldings, interior window shutters, a tin ceiling, a cherry ceiling and five fireplaces.
The Mansion's fascinating history includes a French princess, Louise Marie Adelaide Eugenie d'Orleans, daughter of King Louis-Philippe II, who was shipwrecked in Guadeloupe while fleeing to America during the reign of terror. Princess Adelaide and George Casper von Schroeppel met and fell in love in the West Indies. Although he was 30 years her senior, they married and had four children. George von Schroeppel was a wealthy Prussian born tea merchant who was instrumental in conceptualizing and building the Erie Canal. George began building the Schroeppel Homestead in 1816 on 20,000 acres of land along both sides of the Oneida River. The marriage was not a happy one with the difference in age, nationality and religion. When Princess Adelaide's brother Louis-Philippe returned to France to later become King, she left her family and returned to live in the royal household. It appears, though, that Princess Adelaide never told her French family about her American family! Research shows Princess Adelaide never married and left no progeny, but research on George von Schroeppel reveals their marriage and subsequent children. The Schroeppel Homestead remained with the family until the early 1950s.
...more>>