Lyons Falls History Association by Terri Bauer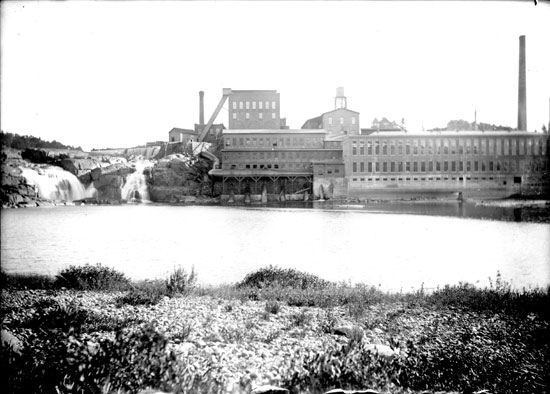 In 1823, Caleb Lyon came to a deeply wooded area overlooking a powerful waterfall. He settled there and built a bridge over the rivers that joined together there in 1829. These were the Black River and the Moose River. The area became Lyons Falls. As a member of the New York Assembly, Caleb Lyon's son, Lyman, was an influential member of the committee that organized the construction of the Black River Canal.
Construction on the Black River Canal began in 1836. The purpose of the canal was to join the Erie Canal in Rome to the North Country. The Black River Canal was so named because it used parts of the Black River to make its way north. The Canal met up with the River in Lyons Falls. Since the Canal ran directly through the village, people used the canal as a method of transportation for both goods and people. With such a convenient mode of transportation, Lyons Falls became a booming economic center, especially with the combination of the two rivers, the canal, and the mills that sprouted up near those water sources.
Shortly after Caleb Lyon settled in the area in 1823, he built a grist mill. The mill used the rivers and the waterfall as a power source. Lyon was not the only person to recognize the benefits of the rivers, however.
In the early 1890s, entrepreneur Gordias H.P. Gould purchased property at this junction to construct a paper mill. The businessman already owned a great deal of property along the Moose River that could readily supply the mill with wood to be turned to pulp. The paper mill opened in 1895. The mill, an important asset to the Lyons Falls community, changed hands a number of times throughout the course of its life. It closed after a century of papermaking in 2000.
Lyons Falls is overflowing with history, whether it be from the name of the village or the landmarks that continue to grace the banks of the Black River. This now sleepy village once boomed with industry, trade, and people. It lives with history and the memory of what was, making it as interesting now as it used to be. The History Association and Lyons Falls ALIVE keep the past vibrant, giving people the opportunity to explore the history and remember how important the town once was.