Maple Syrup & The American Maple Museum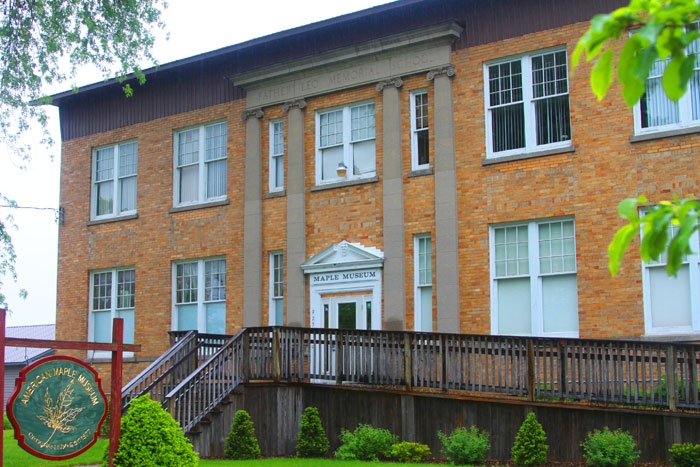 Some people know of maple syrup as a topping for pancakes that you can buy from local producers. Others know "maple syrup" as the artificial sweetener that can be bought at any grocery store. The easiest way to tell real syrup for imitation is the price tag. Some people see the high price of pure maple syrup and are immediately put off. But until you truly know the story of maple history, maple production techniques, and the maple industry, it is impossible to comprehend why people are willing to pay such top dollar for this product.
The American Maple Museum was founded in 1977 to preserve the history and evolution of the North American maple syrup industry. The former Father Leo Memorial School was acquired in 1980 through a generous gift from Robert and Florence Lamb. The Lambs have also contributed much of their personal collection of antique syrup making equipment, logging tools and antiques to the museum. Other artifacts have been gathered from maple syrup regions across the U.S. and Canada. Those who founded this institution set out to collect the tools and equipment used to make maple sugar and syrup, from the earliest times to the present. The core groups were, and still are, from Lewis County but several others from across the maple region also joined in creating this repository of artifacts and written documents.
The American Maple Museum is a non-profit organization chartered (Absolute Charter) by the NY State Board of Regents and is recognized by the North American Maple Syrup Council and the International Maple Syrup Institute.
Everything there is to know regarding maple is on display at the museum, and after even a short tour through the facility, it is easy to appreciate the immense labor that is required to produce even one gallon of maple syrup. This is a great museum for locals as well as people completely unfamiliar with the maple industry, and there is always something new to learn as you tour this wonderfully historic building. Featuring a complete gift shop, the museum offers all things maple to put a taste with all the history and facts.
...more>>