A Visit to The Richardson-Bates House Museum in Oswego, NY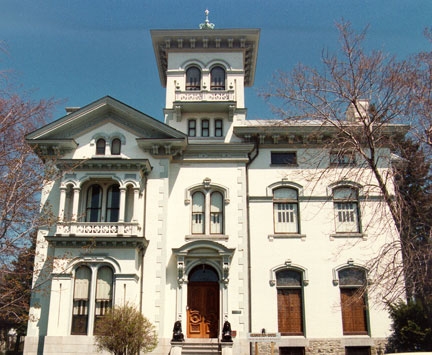 The Richardson-Bates House Museum was built for Maxwell Richardson. Max was a real estate attorney, insurance broker, and two-term mayor of the City of Oswego. Max lived in this house with his widowed mother, his divorced sister, and her son. His house reflects his wealth and his position as a civic leader. The building was constructed in two stages between 1872 and 1890, in a style known today as Italian Villa. Still retaining about 95% of the original first floor furnishings, it tells us about the family's interest in travel, education, history, and art.
Richardson-Bates Home to Oswego County Historical Society
In addition to the beautiful house museum it is also the home of the Oswego County Historical Society. The Society, founded in 1896, has preserved and promoted the history of the greater Oswego community for over a century. In 1946, the historical society received a generous gift of a historic 19th century Italian Villa to serve as the permanent headquarters for a public museum. Since that time the society has owned and operated the magnificent Richardson-Bates House Museum. Listed on the National Register of Historic Places, this distinctive landmark offers a unique glimpse into the opulent lifestyle of a prominent Oswego family, as well as a museum dedicated to interpreting the vast history of the people, places and events of Oswego County through exhibits and education programs.
Dr. Mary Walker collection at Richards-Bates Museum
Dr. Walker was born on a farm in the Town of Oswego, on November 26, 1832, fifth daughter of Alvah and Vesta Whitcomb Walker. Dr. Walker grew up in the Oswego area and attended Syracuse Medical School from which she graduated in 1855 and subsequently went to Rome, NY to set up her medical practice. Dr. Walker was a supporter of Amelia Bloomer and dress reform. She chose to wear pants style bloomers, as did so many other dress reformers in Western New York. She was elected president of the National Dress Reform Association in 1866 and for the rest of her life work full male attire.
When the Civil War broke out, Dr. Walker traveled to Washington to offer her services. She worked first as a nurse in an improvised hospital and helped to found the Women's Relief Association. In 1864 she was awarded a paid contract as Acting Assistant Surgeon with the Ohio 52nd Infantry. She left service at the war's conclusion in 1865.
A short time later Dr. Walker was awarded the first Congressional Medal of Honor for Meritorious Service ever awarded to a woman. She was extremely proud of her medial and wore it often, especially when speaking in public.
Dr. Walker returned to Oswego where she died February 21, 1919 and is buried in a black suit in Oswego Town cemetery. There is a display on the life of Dr. Mary Walker on the 2nd floor of the Richardson-Bates House and her Medal of Honor is in the possession of the Historical Society.