Oneida Community Mansion House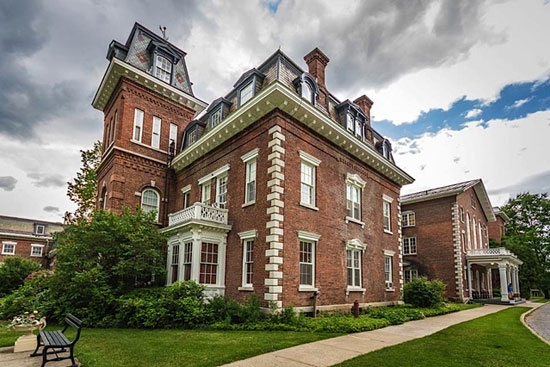 The Oneida Community was the most thriving and radical utopian experiment in 19th-century America. As a group of about 300 men, women and children, they made their home in the Oneida Community Mansion House where they shared all of their work, property and love. The Mansion House exists today, much as it always has, with impressive indoor and outdoor spaces as a 93,000 square foot National Historic Landmark. Now a museum offering tours and changing and permanent exhibits, the structure also houses residential apartments, overnight lodging, historic rooms available for event rentals, a farm to fork restaurant, and beautifully kept gardens and grounds.
Guided museum tours or self-guided tours enhanced by audio narration take place in the actual spaces inhabited by this forward-thinking, yet spiritually focused, group. Ahead of their time in terms of the roles of women in the workplace, childrearing and gender relations they were also at the forefront of the industrialization of America as the largest producer of animal traps in North America. Their progressive philosophy is evident in the magnificent structure itself; choices made in the spatial design of the building reflect the organization of the Community. Explore the comfort allowed by their material prosperity and the joy of their rich spiritual life as you visit the site and learn about this amazing and inspiring historic destination.
A stay at the Mansion House includes in-room continental breakfast and a tour. The Oneida Community Mansion House is located at 170 Kenwood Avenue, Oneida, NY 13421 in the Utica, Rome, Oneida ...East of Syracuse NY.
...more>>