The Corning Museum of Glass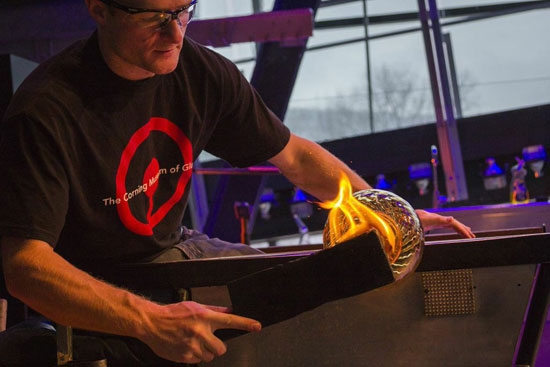 From children looking for an adventure to artists looking for inspiration, there is something for everyone at The Corning Museum of Glass, located in the heart of Finger Lakes Wine Country in upstate New York, half-way between Niagara Falls and New York City. Watch glass come to life during the live Hot Glass Show, a narrated glassmaking demonstration, and be amazed as pieces take shape before your eyes. Once you've been inspired by our master glassblowers, you'll want to experience the wonder of glassmaking for yourself! During a Make Your Own Glass workshop, you'll work hands-on with a glassmaker to create your own piece. These short, daily workshops include projects for all ages like fused picture frames and suncatchers, sandblasted drinking glasses, flameworked beads and pendants, pulled glass flowers and delicate blown ornaments. Seasonal projects include blown glass pumpkins and snowmen, as well as heart-shaped paperweights. Explore the science of glass at interactive Do It! stations in the Innovation Center. Enjoy all this, combined with a trip through 3,500 years of glassmaking history in the world's largest collection of glass, featuring nearly 50,000 pieces of ancient and contemporary works in glass. While at The Corning Museum of Glass, visitors can shop the GlassMarket for glass treasures made locally and around the world. - The Corning Museum of Glass
Top 10 Glass Facts
Glassmaking began in Mesopotamia (now Iraq and northern Syria) just before 2000 B.C., more than 4000 years ago. The Museum's earliest pieces date from about 1450 B.C.
Glassblowers work with molten glass at temperatures near 2100º F (1150º C).
Glass can be formed in nature when sand or rocks are heated to high temperatures then cooled rapidly. Volcanic glass is called obsidian, glass formed when a meteorite strikes sand is called a tektite, and glass formed from a lightning strike is called a fulgurite.
There are many different recipes for making glass, but the three main ingredients are a former, flux and stabilizer. Silica (Silicon dioxide) in the form of sand is a common former. Soda (Sodium carbonate) and Potash (Potassium carbonate), both alkalis, are common fluxes which lower the melting point. Lime (calcium carbonate), is a common stabilizer needed to make the glass strong and water resistant.
Glassblowing began in the Roman Empire around 50 B.C.
Glass musical instruments include the armonica developed by Ben Franklin.
Glassmaking was America's first industry. Two unsuccessful attempts were made to start glass factories in Jamestown in 1608 and 1621.
When gold chloride is added to a batch, the mixture of raw materials used to make glass, the result is a deep red glass known as gold ruby.
In 1954, Corning scientist Donald Stookey left a piece of glass in a furnace and it overheated. Crystals formed in the glass, causing it to be opaque and very strong—a glass-ceramic. Today, glass-ceramics are commonly used as bakeware.
Glass used in space capsules has been chemically tempered. Glass is placed in a bath of potassium salts where potassium ions replace the smaller sodium ions. This exchange makes the surface crowded and the glass is compressed, making it very strong.
...more>>